I can't remember the last time I shopped for one piece womens bathing suits but let's just say I don't have any in my beach bag. However, with the one piece options I've been seeing all over the internet lately, the number one summer must-have item is back and with some seriously chic updates that have me opening my wallet and applying the SPF.
Keep reading for my favorite one piece picks!
1. Vilanyas sexy hollow out cheap one piece swimsuits with caged open back detail, $23.60
2. Jessica Simpson Maillot One-Piece Swimsuit, CAD 96.85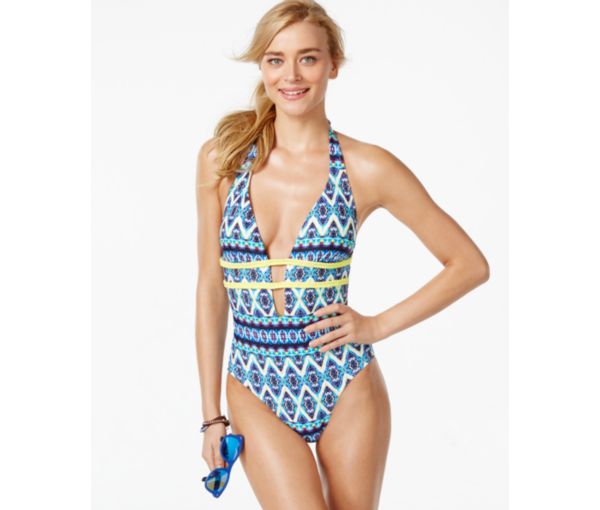 3. La Blanca All Meshed Up One Piece Swimsuit, $109.50
4. Missguided Strapping Detail white one piece swimsuit, $43.00
5. Blossom Floral Print Wrap Belted High Leg Swimsuit, $52.00
6. Robin Piccone Floral Border Print Bandeau One Piece Swimsuit, $99.99
7. New Look Caged Scoop Back black one piece swimsuit, $38.00
8. Gathered Deep Plunge Swimsuit, $33.00
9. Kaleidoscopic one-piece, $49 10. V-neck Sexy Cutout Adjustable Pullover Straps Padded One Piece Swimsuit, $21.80
With cutouts, bright colors and patterns, I can totally get on board with not mixing and matching swim suits for beach trips. Plus, I'd have way more fun paddle boarding with a one piece on.
As if that wasn't a game changer, since I have to say (a tearful) goodbye to Victoria's Secret swim wear, now is the perfect time to try something totally new – brand and all. (But, VS bikinis fit me so well. Tear.)
I adore all the suits in my roundup, but this one is at the top of my list for sure. I just can't get enough of the fun print and back! Target has great picks, too and I also love the strappy details of this swimsuit, however white suits terrify me.
What's your favorite one piece swimsuit for summer?